Sweet Pea & Friends A Farm for Maisie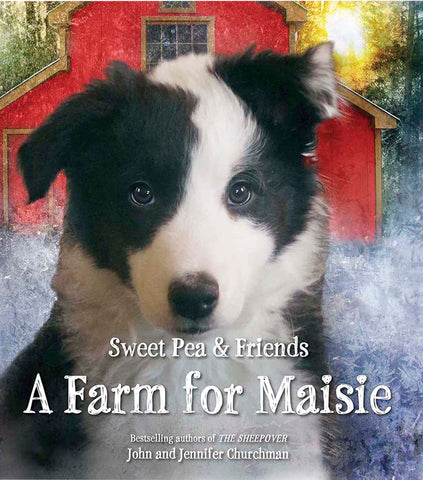 SPECIAL AUTHOR SIGNED EDITION
This special edition book, Sweet Pea & Friends A Farm for Maisie, is signed by both author and illustrator Jennifer and John Churchman. The book can also be personalized by the authors if you wish. Free Shipping
Meet adorable sheepdog Maisie in this follow-up to the picture book phenomenon The SheepOver!

When Maisie Grace the puppy arrives at Moonrise Farm, she's excited about her new home but overwhelmed by all the bustling activity around her. She learns about each animal's job: the chickens lay eggs, the pony pulls a cart for Farmer John, and the sheep make lots of soft wool for blankets and warm clothes. But what will Maisie's job be? With the help of older dog Laddie and her new friends, Maisie realizes how she can help--she's going to be a sheepdog!

This charming story by John and Jennifer Churchman, featuring their photo-illustrations of the real animals on their bustling Vermont farm including fan favorites Sweet Pea from The SheepOver and Finn from Brave Little Finn, celebrates the joy of finding just where you belong.
---
More from this collection