Sweet Pea & Friends Full Series Package Special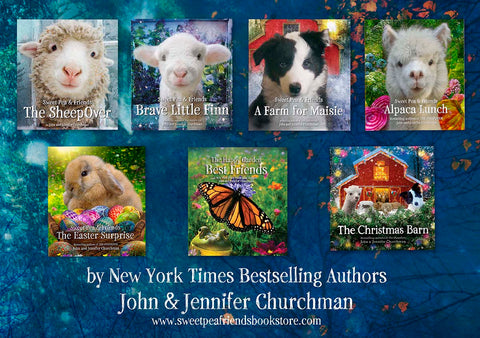 Are you new to the Sweet Pea & Friends book series and would like to "catch up" or do you just love giving our books as gifts (Thank you!).
We've put together this special collection of all seven books plus free 5pk of Sweet Pea & Friends Greeting Cards. Free shipping too! ($21 savings)
All books will be author and illustrator signed with optional personalization. 
So whether you are purchasing for yourself, a special someone or to fill up the "gift closet", we want to thank you! ~ John and Jennifer
Series Package: All books author and illustrator signed. Can be personalized (free and optional). List all personalizations in the notes section at checkout or email john@brickhousestudios.com
The SheepOver 
A Farm for Maisie
Brave Little Finn
Alpaca Lunch
The Easter Surprise
The Christmas Barn
The Happy Garden 
FREE: The SheepOver (Board Book)
FREE: Shipping
Value savings $20 with the series package
---
More from this collection